Commissioned Art of Lana Zfhi!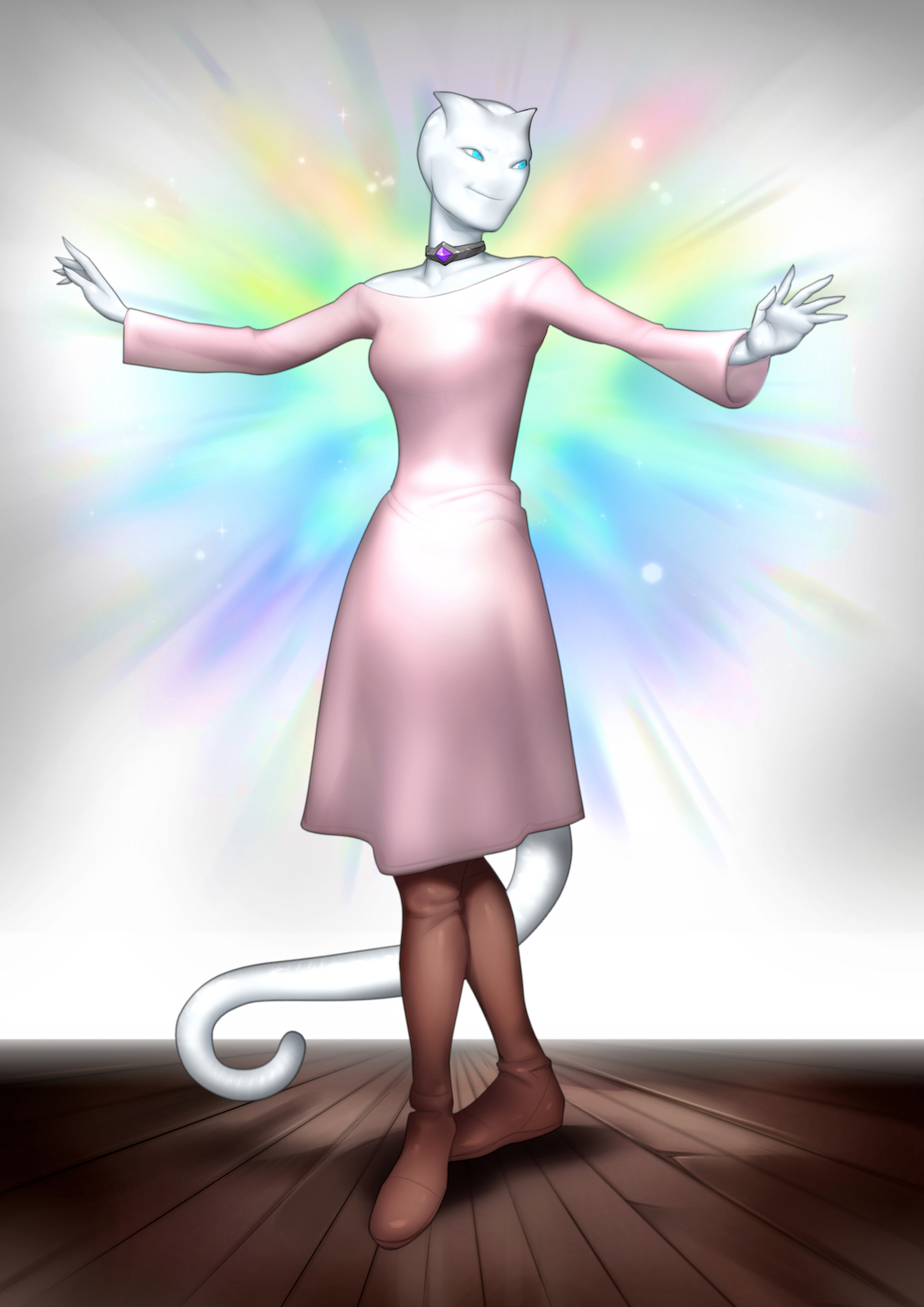 ---
There should be no surprises here. It started with Balon, it proceeded with Rayacha Chajaran, and now we are here with Lana Zfhi. I commissioned Erika Hollice, of course, to finish the 'set' and to bring Lana Zfhi to artistic life.
I had a somewhat strong image going in of what this picture of Lana Zfhi would look like:
Background was to be spider legs coming out from behind her
Wooden fooring (like the Cathedral)
Dress was a simple pale rose thing and she wears a choker
Sharper head protrustions
Pose: Arms outsretched, like hitting against something…like trapped. But somehow confident.
Some of that was held, and some things changed as I saw Lana Zfhi come to life.
Poses
Poses, poses, poses!
This was actually pretty tricky for me to rationalize and articulate over. Ostensibly, these poses were what I wanted…but…well, as I should have expected with regards to Lana Zfhi, my mind changed.
But anyway, here were my comments:
The dress needed to be like #2 but with the arms of #4
The background and floor of #2 was perfect due to the symbolism
Head protrusions twisty like #1 but not as extreme
Pose: #2 was closest, and this was the tentative pose I thought I wanted. But. Bashl! Seeing this, I wanted her bolder. Outstretched more. Confident.
Face: Same thing. She needed a little bit of a smirk…something treacherous and bold. That was more like Lana Zfhi.
What I did with Lana in TMOL was against my initial expectations so this could be no different. Lana Zfhi, rendered beautifully, needed to not be cautious or weak, but strong.
Revised Sketch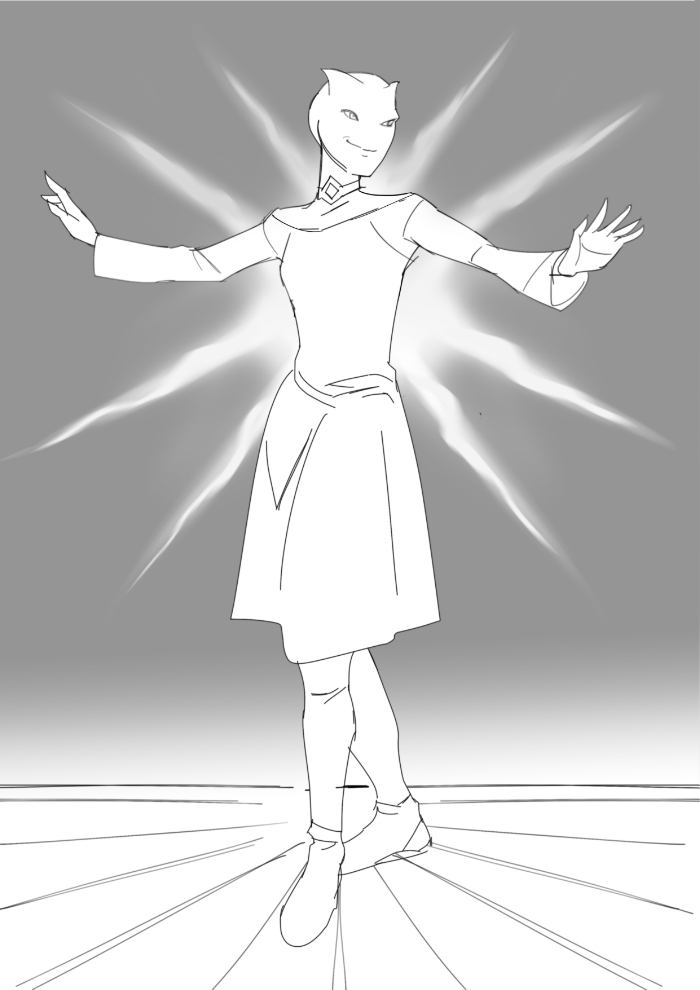 And here Lana Zfhi is, far more confident! This revised sketch nailed it. Dress, choker, eyes, head, pose…bam. Onto the color!
Preview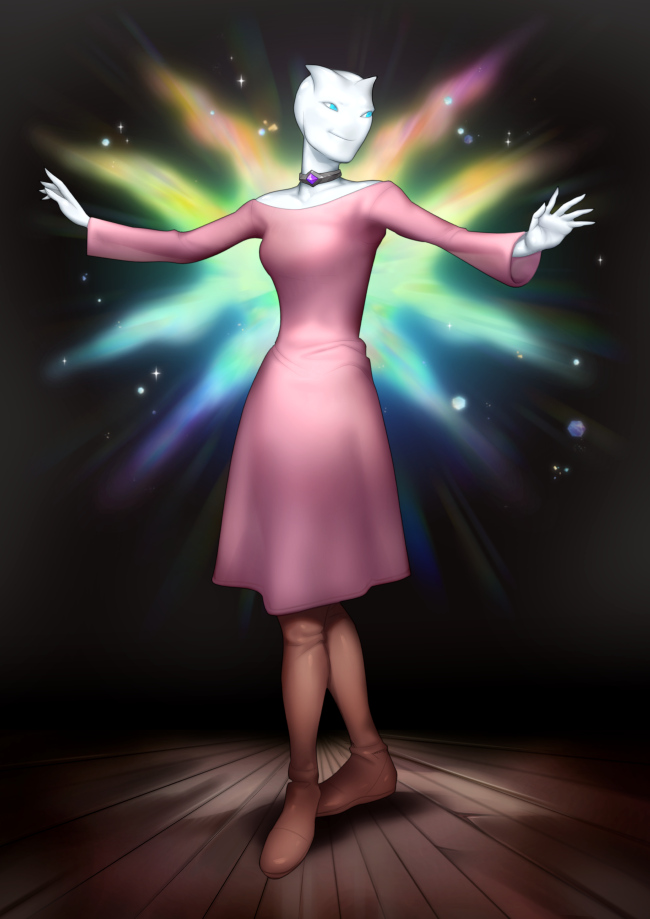 It was at this point did I realize something big was missing. HER TAIL! I don't know how we missed it…. Sigh.
Asides from that shocking realization… WOW! Rainbows! The eyes! It was all coming together and was quite thought provoking. I had a few color suggestions/questions:
What if the black was white? That felt more apt.
What if Lana Zfhi was desaturated against the vibrant rainbows…showing how she was mundaned? Like a little bit duller.
The dress needed to be less strong in hue.
The eyes seemed too far apart.
Erika then came back to me with a tweaked version…tail added, dress color changed, and background inverted. Also face was modified slightly.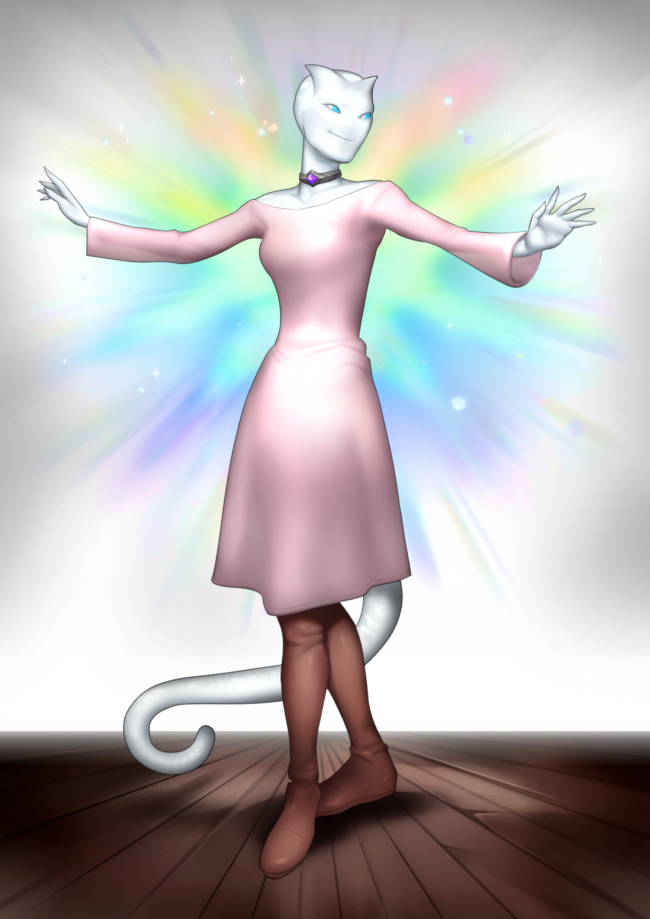 It was fantastic! Only comment I had was to make the tail lighter. It looked so good!
Final
And here is the final, wonderful version: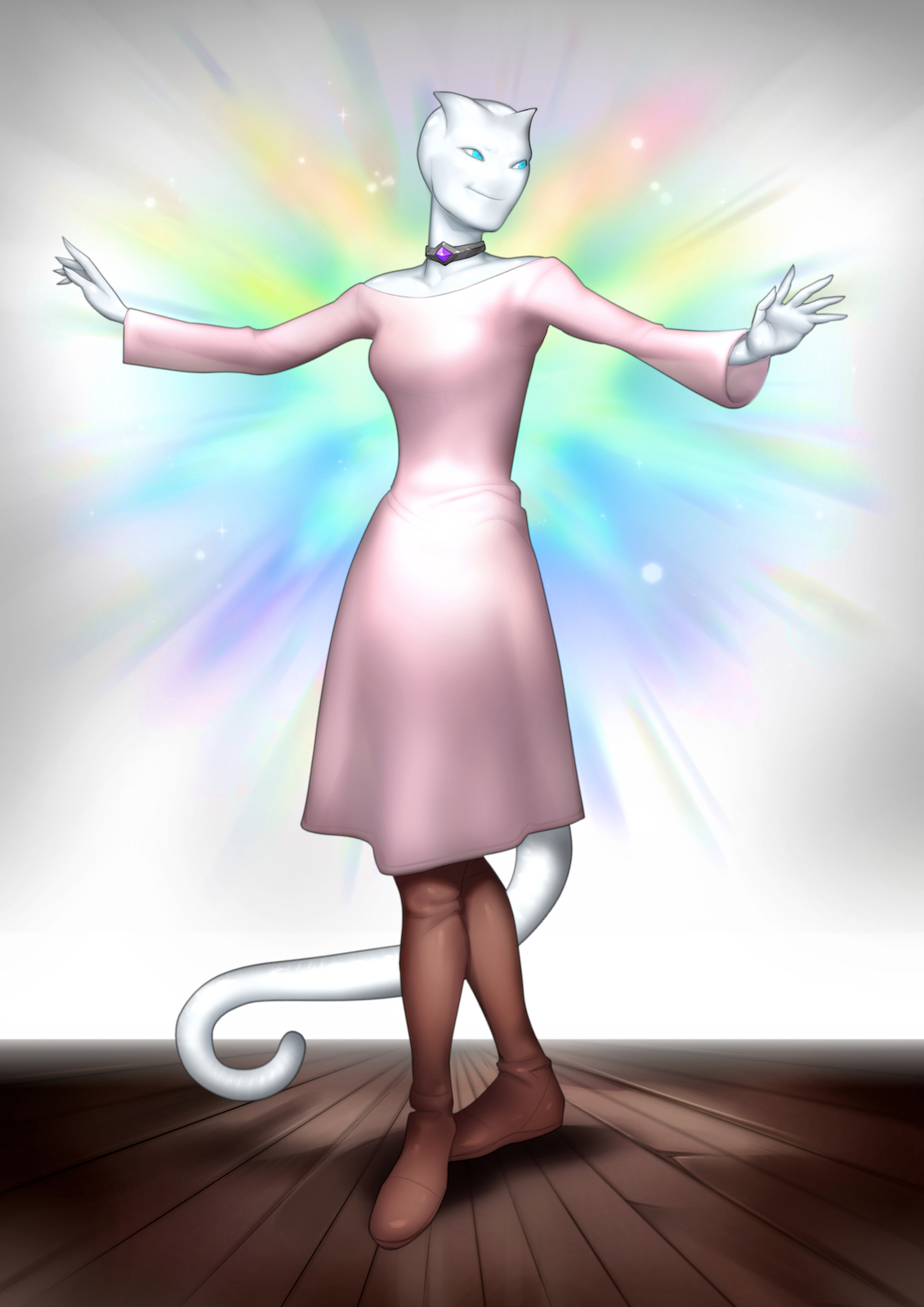 It's truly glorious and magnetic to behold. Lana Zfhi definitely does defy expectation. What I thought I wanted going in was not what it turned out to be and that's OK. Lana Zfhi looks proud, strong, slightly mad, and positively radiant in the almost-divine-way she was. Radiant in her mundane whiteness, glowing with rainbows from the Spider of Light… It works. It works so well.
And so the set of three is done thanks to Erika Hollice! She brought each one of the characters to life in potent glory. Thank you so much!
---
---
Related/Recent Posts